Delicious Expeditions in Venice
Experience Italy!
May 14-20, 2023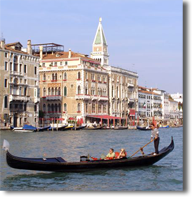 To truly know Venice is to explore its lagoon, travel its waterways, and discover its centuries-old cuisine, fished from its waters and grown in its gardens.
Dine on Venetian cuisine while learning the lagoon's fascinating history of fortune and fame. Glide through its ancient canals, surrounded by the mesmerizing beauty of its buildings and churches, its markets and squares.
Accommodations are at the Locanda Cipriani on the island of Torcello and Al Ponte Mocenigo in Venice. Opened since 1935, the Locanda became a legend after Ernest Hemingway wrote 'Across the River and Through the Trees' during his stay. As a result, the Locanda became a destination for the exclusive world of European royalty and celebrities, world-renown artists and writers.
For more on Locanda Cipriani click here: www.locandacipriani.com
________________________
Experience Venice
$3800 per person, double occupancy
$700–Single Supplement
Bring a friend or spouse:
Non-cooking companion–$3200
________________________
Included in the Venice cooking vacation are 3 nights accommodations at the Locanda Cipriani in Torcello and 3 nights at Al Ponte Mocenigo in Venice with breakfast, all transportation after arriving in Torcello, all group activities, cooking demonstrations and classes, and all meals, except for those not specified in the itinerary. Also included is a week-long vaporetto pass for all the island ferries.
A $1000 deposit is needed to secure your place in our tour. Since the number of participants is limited and accommodations vary, early registration is advised.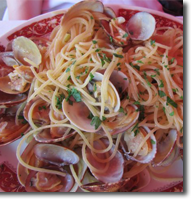 Delicious Expeditions also offers culinary tours to:
Croatia, France, Guatemala, Istria, Michoacán, San Miguel de Allende, Slovenia, Tuscany, Umbria, Venice & Vienna
Don't just take our word for it!
Read our testimonials and see for yourself that Delicious Expeditions are trips of a lifetime!
An Insider's Journey to Venice and its Lagoon

¡Benvenuto!
Arrive to the island of Torcello and Locanda Cipriani at your leisure. Evenings cocktails and introductions in the garden before a multi-course welcome dinner at the hotel's famed restaurant.
See Venice photo gallery
———————————————————————————————————————————

Murano & Venetian Cooking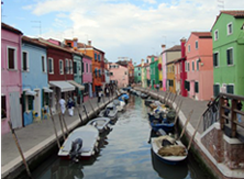 We're off to Murano, the home of Venice's glassmakers, for a guided tour. Learn about the island's history as you watch masters craft sculptures, glassware and jewelry. Trattoria lunch of local specialities followed by free time to explore and shop on your own. Cooking demonstration with dinner in the Cipriani kitchen.
———————————————————————————————————————————
Boating on the Lagoon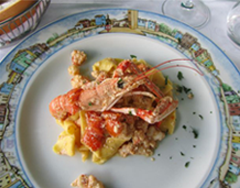 Board a traditional Venetian
bragozzo
for a private tour of the lagoon. Visit the island abbey of San Francesco del Desierto, San Andrea Fortress and the former quarantine island of Lazzaretto Nuovo. Lunch in the salt marshes with a meal prepared by our captain. Wine tasting on San Erasmo, the lagoon's garden island. Free evening on the lace making island of Burano.
———————————————————————————————————————————
St. Marks & the Grand Canal
We'll transfer to Venice in a private water taxi, enjoying the views as we pass picturesque islands and canals. After settling in at our new hotel: Al Ponte Mocenigo, we'll visit a 18th century textile factory where fabric is still handmade for many of the royal palaces around the world. Then we'll head to St. Marks Square for a private tour of the Basilica. Lunch at a nearby trattoria. Free afternoon to explore or visit the numerous museums in town.


———————————————————————————————————————————

Cooking on the Lido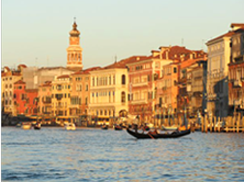 Take a boat to the Lido for a cooking class lunch at Acqualina featuring the cuisine of Milan, including two of its most popular dishes--ossobuco and saffron risotto. Discover a whole new Venice with a gondola ride through the back canals, before an afternoon Spritz--the island's official drink and a few cichetti, or Venetian tapas. Free evening.
———————————————————————————————————————————

Rialto Market & Seasonal Cooking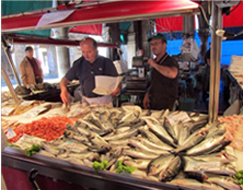 We'll start the day with a walking tour of our neighborhood--San Polo, highlighting the extraordinary history of this ancient place. Peruse the stalls of the Rialto market, one of the oldest in Europe, before a cooking class lunch featuring seasonal produce. Farewell dinner at the Bistro du Venise, where we'll have a historical Venetian meal taken from a 16th century cookbook.
———————————————————————————————————————————

Buon Viaggio!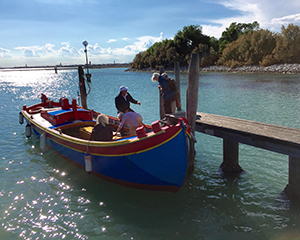 After a final breakfast together, depart for the train station or airport. If you'd like to spend a few extra days in Venice, we'd be happy to help with the arrangements.
Itinerary subject to change depending on local festivals and weather.
Please be aware that we (and Italy) only accept travelers who have been fully vaccinated. This insures the safety of the group as well as the people we will be meeting along the way.