Delicious Expeditions in Istria
Experience Istria!
September 24-October 1, 2023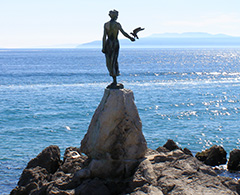 Discover a land where time stands still.
Dotted with walled medieval villages and lush green valleys, Istria is the Italian-flavored peninsula of western Croatia and Slovenia. It was once a Roman colony and later part of the Venetian Empire. It's a mixture of brilliant seaside and rugged hills, a land with deep history and delectable cuisine.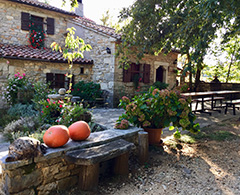 Fall is the best time to visit. It's when grapes and olives are harvested, when homemade pasta is tossed with just-picked mushrooms and truffle dogs begin to sniff out the precious white.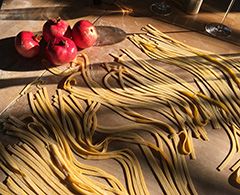 We'll experience life in Rovinj, a former fishing village, with old world charm and pebbled beaches before moving to a hilltop villa in central Istria with breathtaking views. Palazzo Angelica is located in the heart of the truffle and wine country. It's a restored villa with private pool and jacuzzi.
Discover the best Istria has to offer.
__________________________
Experience Istria
Due to the varying accommodations at the Palazzo Angelica, larger rooms will be allotted on a first-to-register basis.
$3600 per person, double occupancy
$350 single supplement/single room
$600 single supplement/double room
Book the master suite at both properties: +$200 per person
__________________________
Included in the Istria cooking vacation are 3 nights at Villa Tuttorotto in Rovinj and 4 nights at the Palazzo Angelica in Oprtalj, all ground transportation after arriving in Rovinj, all group activities, cooking classes, meals listed in the itinerary as well as return transportation to Trieste, Italy.
A $1000 deposit is required to secure your place. Since the number of participants is limited and rooms vary, early registration is advised.
Our tour is limited to 12 people.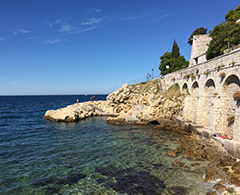 Delicious Expeditions also offers culinary tours to:
Croatia, France, Guatemala, Istria, Michoacán, San Miguel de Allende, Slovenia, Tuscany, Umbria, Venice & Vienna
Don't just take our word for it!
Read our testimonials and see for yourself that Delicious Expeditions are trips of a lifetime!
The Land that Time Forgot
Arrive to Rovinj and the 4-star Villa Tuttorotto, located in the charming pedestrian center that was once its own island. We'll meet in the late afternoon for drinks and introductions before a walking tour of one of the most picturesque towns on the Adriatic. Explore the narrow cobbled streets and enjoy a seaside sunset. Dinner at Giannini.
See Istria photo gallery
———————————————————————————————————————————
Board a private boat to Lim Bay, a natural fiord where sweet water mixes with salty to make the perfect home for oysters and mussels. Continue by car to an olive grove to taste their award winning oil. Spend the late afternoon herding goats at a farm, bringing them in from the pasture before a cheese-tasting picnic. Free evening.
———————————————————————————————————————————
Journey to the city of Pula for a guided tour of the fish market, followed by a cooking class in the country. Visit the best-preserved Roman amphitheater in the world. Free evening.
———————————————————————————————————————————
Transfer to the Oprtalj, in the rolling hills of central Istria. Along the way, we'll stop at the Ograde home for a pasta making class and lunch. Free time to wander the medieval alleyways of Groznjan—a tiny hilltop artist town. Dinner at the villa.
———————————————————————————————————————————
Truffle hunt and tasting where you'll traipse after specially trained dogs in the forest. Then off to Motovun for a guided tour of the most picturesque walled village in Istria. Free time at lunch. Wine tasting at Reixanch, considered one of Croatia's top labels.
———————————————————————————————————————————
Tour the ancient salt pans of Slovenia, established in 804, where they use centuries-old methods and still work by hand. Then board a boat to the seaside town of Piran for lunch and a free afternoon to explore on your own.
———————————————————————————————————————————
Spend the morning enjoying our local surroundings: villages, wineries and olive oil producers. Afternoon cooking class at the villa featuring produce from the villa's own organic garden. Dinner at Toklija, a former olive oil mill.
———————————————————————————————————————————

Farewell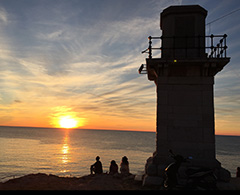 Depart for the Trieste train station or airport.
———————————————————————————————————————————
Since we will not have much time in Rovinj as a group, I would suggest spending an additional night there or another nearby coastal town.
*Itinerary subject to change depending on local festivals and concerts.