Discover Guatemala
Antigua, Lake Atitlán & Chichicastenango
March 18-25, 2023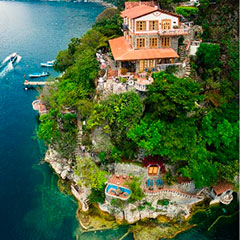 Discover the highlands of Guatemala. We'll journey from the colonial-era town of Antigua, a UNESCO world heritage center, to the majestic waters of Lake Atitlán. Once there, we'll travel by boat to the surrounding Mayan villages to learn their history and see their crafts, to witness their native religion and experience their hospitality. Learn to make tortillas and pipían, the country's national dish. Explore coffee plantations and bite into the chocolate bar you just made from scratch.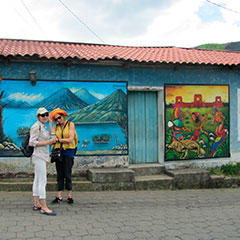 We'll travel through piney hills to Chichicastenago and see its historic outdoor artisan market—one of the largest in Latin America—and Sunday church services that are more pagan than Catholic. Enjoy free time to explore the stalls loaded down with vibrant hand-woven textiles as well as traditional wooden handicrafts and intricate jade jewelry. In the evening, enjoy our quaint yet regal lodgings, tugged beside your own fireplace, in one of Guatemala's oldest hotels.
During our stay on Lake Atitlán, we'll be perched on a secluded cliff near Jaibalito. Casa del Mundo is a spectacular property only accessible by boat and offers a literal sea of tranquility.
—————————————————
Discover Guatemala
$2950 per person
Single supplement: $400
Balcony room at Casa del Mundo: $150
Extra night at Hotel Cathedral: $140

—————————————————
Our Guatemalan tour includes 2 nights at the Hotel Cathedral in Antigua, 4 nights at Casa del Mundo on Lake Atitlán (please note the stairs), and 2 nights at the famed Mayan Inn in Chichicastenago, all ground transportation after arriving in Antigua, all group activities, cooking classes and demonstrations, all meals except one dinner and three lunches.
A $1000 deposit is required to secure your place in our Guatemala tour. Since the number of participants is limited and accommodations vary, early registration is advised.
Please note that we can only accept fully vaccinated guests at this time.
Delicious Expeditions also offers culinary tours to:
Croatia, France, Guatemala, Istria, Michoacán, San Miguel de Allende, Slovenia, Tuscany, Umbria, Venice & Vienna
Don't just take our word for it!
Read our testimonials and see for yourself that Delicious Expeditions are trips of a lifetime!
A Culture & Culinary Journey into the Land of the Maya

¡Bienvenidos!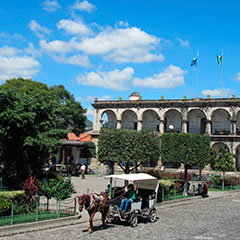 Arrive to the Hotel Cathedral, located minutes from the main square. We'll meet in the evening for cocktails and introductions on the patio followed by a dinner of Guatemalan specialties at one of the town's best restaurants.
———————————————————————————————————————————

History & Chocolate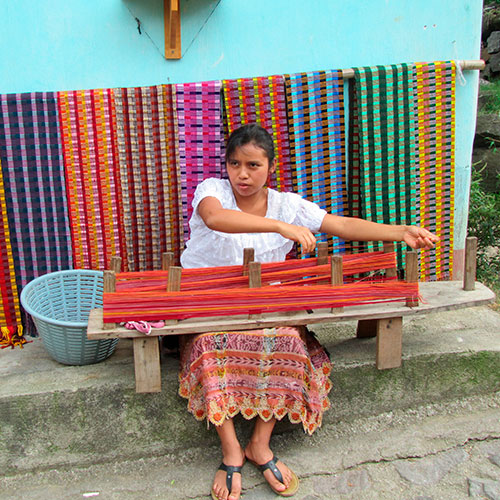 Enjoy a walking tour of Antigua, learning about its dynamic history, past and near present. Visit with Mary Lou Ridinger, the archeologist who discovered the lost jade quarry of pre-Columbian times that led to a revitalization of the country's historic jewelry making industry. Lunch on more local specialities before a chocolate making class using indigenous cacao pods. Free evening.
———————————————————————————————————————————
The Majestic Lake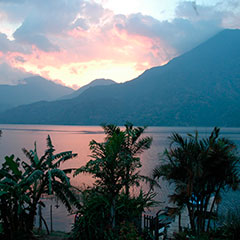 Cooking class at a nearby coffee finca featuring the country's national dish: Pipían, or pumpkin see sauce. Drive into the highlands, soaking in the vast greenery of the land on our way to Lake Atitlán and the lovely Casa del Mundo. Candlelit dinner on the terrace.
———————————————————————————————————————————
Coffee & Textiles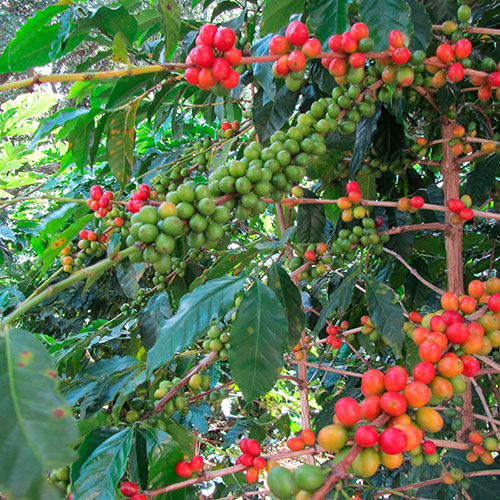 Boat across the lake to San Juan de la Laguna, a town known for its coffee and textiles. Visit a weaving co-op. Free time to wander and lunch before traveling to San Pedro, home to a large community of Tz'utujil people. Schedule a late afternoon massage at Casa del Mundo or walk to the neighboring town of Jaibalito. Candlelit dinner on the terrace.
———————————————————————————————————————————

The Maya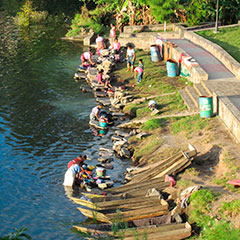 Today, we'll head to Santiago de Atitlán to visit the largest Mayan community in the world. Our local guide will take us through her town, stopping to visit Maximón, the area's colorful saint along the way. Lunch at Posada Santiago. Travel on to San Marcos at the foot of the three volcanoes. Known as a spiritual center, the place has a unique new age feel. Candlelit dinner on the terrace of Casa del Mundo.
———————————————————————————————————————————

Mayan Astrology and Cooking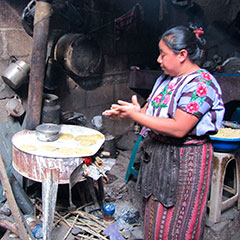 Cooking class lunch in San Lucas, enjoying the fruits (and vegetables) of their sustainable garden. Visit the Mesamerican Institute for Permaculture to learn how they keep the area's indigenous food safe. Mayan astrology talk. Candlelit dinner on the terrace on Casa del Mundo.
———————————————————————————————————————————

Piney Hills of the Highlands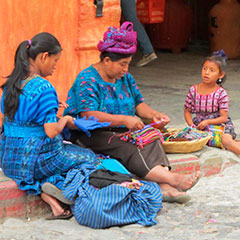 Free morning to hop a ferry and head to Panajachel to explore on your own. Or stay nearby and schedule to hike with the staff of Casa del Mundo. Drive through the majestic mountains to Chichicastenango and the Mayan Inn, one of Guatemala's oldest and most famous hotels. Dinner at hotel.
———————————————————————————————————————————

Market Day
Explore one of the world's most fascinating markets where villagers from all over Guatemala gather to sell their wares: textiles, carvings, clothes, jewelry, as well as fabulous food stands with homemade blue corn tortillas. Farewell dinner at the Mayan Inn.
———————————————————————————————————————————

Hasta Pronto!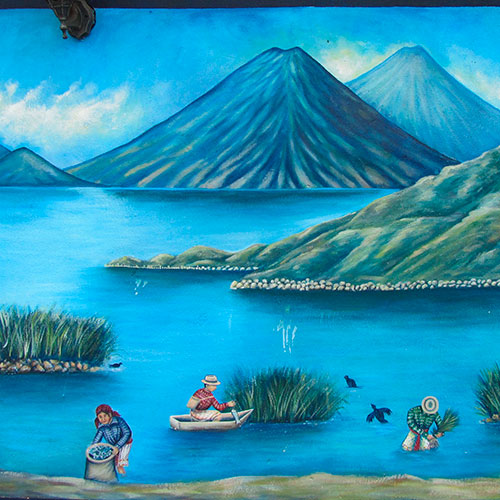 After breakfast, we'll travel back to Antigua where you can catch a shuttle to the airport or stay a few extra days and enjoy more of Guatemala.
———————————————————————————————————————————
*Itinerary subject to change depending on local festivals and concerts.