La Cocina Cooking School
San Miguel de Allende, Mexico

Established in 1998 and featured in the Washington Post, Boston Globe, LA Chronicle, Texas Monthly, Miami Herald, Tucson Citizen, Austin Home & Living, Travel Lady Magazine, Bent Weekly and Edible Dallas/Ft.Worth.
We are currently experiencing problems with our server. Please email Kris directly at culinaryadv@gmail.com.
Welcome to La Cocina!
Immerse yourself in the gastronomy and culture of Mexico. At La Cocina we offer more than just a cooking classes—we delve into the country's fascinating heritage and history, allowing you to transport a true culinary experience into your own kitchen.
Cooking classes are conducted in English. They're hands-on, unless you prefer to sit back and relax. Full meals in the dining room, wine and/or margaritas, as well as recipe packets, are included in the price.
(If you're on a phone, keep scrolling for a list of our scheduled classes.)
For an indepth culinary and culture experience, join one of our
week-long San Miguel culinary tours
.
Register Now
Payment
Due to limited space, advance payment is required to register.

There's a 10% discount when booking two different classes at the same time.

There's also a 10% discount, if you have a group of 6 people or more joining one of our scheduled classes.


Cancellations
A full refund will be issued with a 48-hour cancellation notice; 50% for cancellations of 24 hours.
Private Classes
If you can't find a date or class that suits your needs, please contact us about a private class.

Contact us
with any questions or concerns you may have.
Press Reviews
3-Day Culinary Immersion
Enjoy an in-depth San Miguel culinary experience. Our immersion program includes 4 nights at La Cocina B&B, a welcome dinner, the intensive cooking class with market tour, as well as 2 other classes depending on your interests. $650 per person, double occupancy
$800 per person, single occupancy
2-person minimum
Choose your own dates
Join one of our Delicious Expeditions!
Dolores Hidalgo, Carnitas & Wine Tasting
Wednesdays, 10-5 or by appointment, $150
Visit the ceramics workshops of Dolores Hidalgo, watching as artists mold and paint their creations. Lunch at Vicente's, famous for its carnitas and gorditas. Sample exotic ice creams in the main square: avocado, tequila, beer before heading to Santísima Trinidad for a wine tasting and tour of their spectacular property that features fields of olive trees and lavender. (4 person minimum. 10% discount for groups of 5 or more.)
Our cooking classes:
Traditional Mexican
Discover the secrets of the Mexican kitchen with Guacamole made in the molcajete, Mole Poblano with Chicken, Cheese Chiles Rellenos, Mexican Red Rice, a side of Cactus, a dollop of Mexican history, a dash of cultural insight, and a slice of Tres Leches.
Every Thursday, 4-8 pm | $140 US per person.
———————————————————————————————————————————
Market Tour & Indigenous Cooking
Delve into Mexico's culinary history while perusing the stalls of our colorful market, discovering and tasting local delicacies along the way. Head back to La Cocina to prepare lunch, incorporating indigenous ingredients, such as huitlacoche and squash blossoms. Enjoy a Mezcal tasting. Sample menu: Roasted Tomatillo Salsa, Skirt Steak in Chile Pasilla Salsa, Squash Blossom Quesadillas, Cactus Salad, Beans in a clay pot and Mamey macerated in Tequila.
Every Friday, 11 am–3:30 pm | $150 per person
———————————————————————————————————————————
Naturally Healthy Mexican Cuisine
Learn to make healthy Mexican dishes, both traditional and modern, with recipes from Kris's Mexican Light. cookbook: Shrimp in Pumpkin Seed Sauce, Chicken with Roasted Poblanos, Jicama, Avocado & Pineapple Salad, Tropical Fruit Salsa macerated in Mezcal w/ Coconut Ice Cream.

Tuesdays, 4–8 pm  | $140 per person
———————————————————————————————————————————
Modern Mexican Fusion
Discover a new way to prepare exciting dishes focusing on creative methods for using Mexican ingredients. Roasted Tomatillo-Avocado Salsa, Grilled Vegetable & Goat Cheese Chiles Rellenos, Pork Loin with Mango-Chipotle Salsa, Saffron Rice, Chayote Salad, Chocolate Kahlua Cake.


Tuesdays, 4–8 pm  | $140 per person
———————————————————————————————————————————
Traditional Mexican Moles
Explore the famed sauces of Mexico while learning their history and cultural significance. Roasted Garlic Soup, Mole Poblano with Pork Loin, Green Mole with Chicken, Almond Mole Brownies.

Every Saturday, 2-6 pm  | $140 per person
———————————————————————————————————————————
One-Day Intensive
Begin your morning at the market, perusing the colorful stalls and choosing from the season's best ingredients for the day's meal. Break for Churros and Chocolate before heading to La Cocina where you'll prepare homemade Sopes made from freshly ground masa and filled with Chicken Tinga, Cream of Chayote Soup, Calabacitas with Roasted Corn, as well as a few other seasonal favorites. Enjoy margaritas and Flan with Kahlua, new friends and interesting conversation.

Every Wednesday, 10:30-4:30 pm | $175 per person

———————————————————————————————————————————
The Art of Chiles Rellenos
Learn to make Mexico's national dish: the Chile en Nogada, as well as stuffed Ancho Chiles, Mixed Vegetable Rice and Cream of Poblano & Corn soup.



Every Monday, 2-6 pm  | $140 per person
———————————————————————————————————————————
An Evening in Italy
Kris has learned many secrets from Italy's best chefs, but more importantly from their grandmothers, during her 10 years leading culinary tours. Sample Menu: Pear & Gorgonzola Crostini, Risotto with seasonal ingredients, Osso Bucco, all served with the best Tirasamu ever!

Saturdays 2–6 pm |  $140 per person

———————————————————————————————————————————
The Basics of Baking
Learn quick, efficient baking from a professional. Kris has baked for her restaurant El Buen Cafe for the past 32 years. She's made more than a 1000 cakes, as well as too many cookies and pie crusts to count. Inquire about the menu. This class does not include a meal, but does include a package of your baked goods to take home.

By appointment | $94 per person
———————————————————————————————————————————
Voices of San Miguel: An Oral History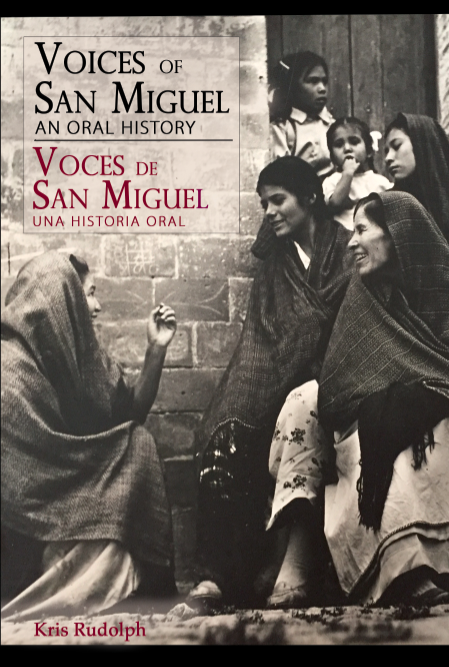 Voices of San Miguel
is a collection of memories that tells the story of one of Mexico's most fabled towns. Featuring a mosaic of personal accounts, told by a diverse group of residents, Voices of San Miguel recaptures life during the Mexican Revolution and Cristero War. It details the influx of American G.I.s and the birth of an artist community. San Miguel's unique history allows for unique stories and characters, people who come alive on these pages while sharing their experiences, hardships, and joys.
Buy Now
($27 US with shipping)
Or buy as an ebook onAmazon