Delicious Expeditions in Croatia
Experience Croatia!
May 1-10, 2024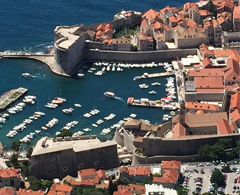 Discover an unforgettable land in a fashion that few ever experience...by private boat.
After exploring Dubrovnik, one of the world's most treasured cities, we'll set sail up the Dalmatian Coast with its clear turquoise water and rugged coastline. Our traditional wooden boat—-the 14-cabin Nikola—-will be our home on this exclusive journey through the passages of time.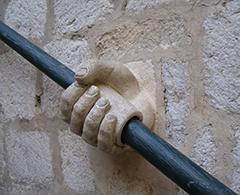 We'll travel from Dubrovnik to Ston, Trstenik to Korčula. We'll explore Vis, with its 500 varieties of wild herbs, and visit Hvar, a former Venetian fortress island with limestone porticos and a stunning yacht-filled harbor. Then on to Brač and Split and the breathtaking Palace of Diocletian.
When not sailing or strolling ancient villages, we'll visit centuries-old vineyards and discover new wines, eat seafood just pulled from the water and sample traditional dishes and heirloom produce.
Our tour is limited to 16 people.
__________________________
Experience Croatia
Register soon--
2023 was sold out!
Due to the varying accommodations on the Nikola, we can offer the following per person prices based on double occupancy:
Upper Deck:
Bunk beds with extra twin--$4400
Twin beds--$4200
Main Deck:
Double bed with extra twin--$4000
Double bed--$3900
Lower Deck:
Twin beds--$2800
All cabins have ensuite baths.
__________________________
Single Supplement for Upper and Main Decks: $600
Single Supplement for Lower Deck: $300
Additional night in Dubrovnik: $190 for superior room, sea view
__________________________
Included in the Croatia food and wine tour are 9 nights accommodations: 2 nights at the Hotel Lapad and 7 nights onboard the Nikola, all transportation after arriving to the hotel in Dubrovnik, all group activities, tours, tastings, cooking classes, wine tastings and meals listed on the itinerary, including daily breakfast and lunch.
A $1000 deposit is required to secure your place. Since the number of cabins is limited and sizes vary, early registration is advised.
More information on the Nikola coming soon.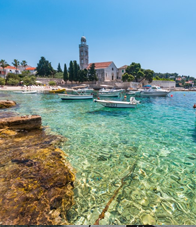 Delicious Expeditions also offers culinary tours to:
Croatia, France, Guatemala, Istria, Michoacán, San Miguel de Allende, Slovenia, Tuscany, Umbria, Venice & Vienna
Don't just take our word for it!
Read our testimonials and see for yourself that Delicious Expeditions are trips of a lifetime!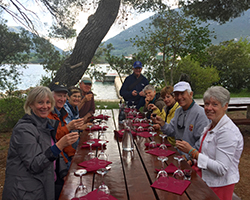 Cruise the Dalmatian Coast

The Pearl of the Adriatic
Arrive to Dubrovnik and the 4-star Hotel Lapad, located on the Gruz Harbor. We'll meet in the late afternoon for drinks and introductions before an after-hours Old Town walking tour.* Discover why this amazing UNESCO World Heritage site, with its marble streets and baroque buildings, is considered "The Pearl of the Adriatic." Dinner at Arsenale.
See Croatia photo gallery
———————————————————————————————————————————

Discover Croatian Wines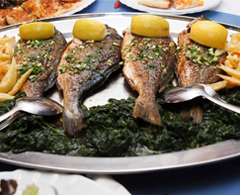 Tour Mount Srdj with its fortress and Balkan War museum. Learn what it was like during the Siege of Dubrovnik. Return to Old Town for a wine pairing lunch where you'll discover new, exciting flavors with every course. Afterwards, explore the ancient town on your own. Walk the city walls, enjoy the view from a cliffside bar, or just wander the streets and relish Dubrovnik's unique beauty.
———————————————————————————————————————————
Sailing & Oyster Eating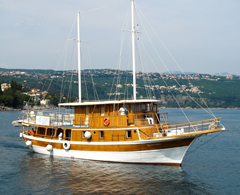 Set sail on the Nikola. We'll travel up the Elaphite Islands, arriving to the Peljesac Peninsula and the town of Slano. Visit an oyster farm, then head to the owner's private island for a late lunch of freshly harvested oysters and mussels. Discover the world's second longest defensive wall in the town of Ston. Meet the boat in Trstenik. Free evening.
———————————————————————————————————————————
Peka Cooking & Wine Making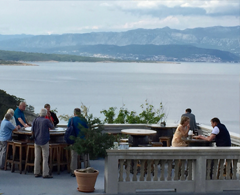 Head to the village of Prizdrina to experience local life with Mario at his family's 600-year old vineyard. We'll have a traditional Peka cooking demostration and lunch. Taste their wines as well as visit neighbor Mike Grgich's vineyard. Learn the story of how Mike, a native of the region, won America its first international winemaking gold medal. Then we're off to Korčula where we'll have a guided walking tour. Discover the birthplace of Marco Polo and a charming town of adorned palaces and cobbled streets. Free evening.
———————————————————————————————————————————

The Secret Military Island of Vis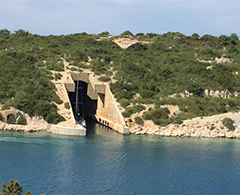 Discover Vis, a former military island off limits to tourists until recently. Lunch on board as we travel to Croatia's outermost island, known for its wines since the 4th century. Visit the Roman ruins of Issa and explore hidden tunnels and old forts. Afternoon wine tasting in the hills. Free evening to stroll the promenade and enjoy the views.
———————————————————————————————————————————

A Day in the Life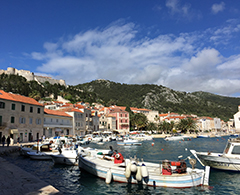 Travel through the scenic inland of Vis with its rolling hills and amazing coastal views from high above. Visit the tiny fishing village of Komiza, famous for its traditional boats. Grilled fish lunch on Mala Travna bay. Free evening.
———————————————————————————————————————————

Hvar & the Abandoned Village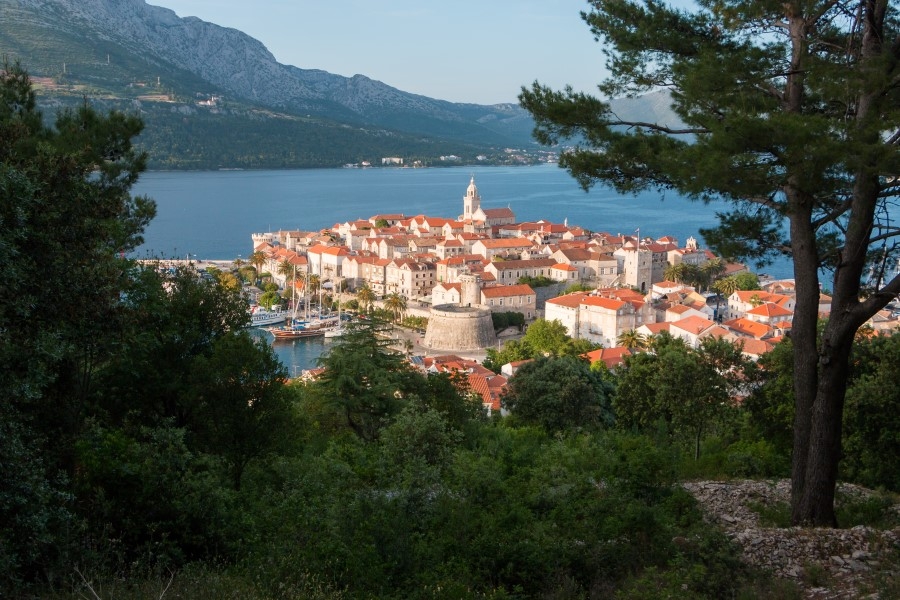 Explore Hvar, known for its endless sun and jet-set crowd. Lunch in the nearly abandoned village of Malo Grablje with its sole resident. Enjoy an afternoon of wine tasting where we'll also tour UNESCO heritage laverder fields and farmland. Overnight in Stari Grad, one of the oldest towns in Europe.
———————————————————————————————————————————

Brač & Olive Oil
Free morning before sailing to Brač, known for its white stones--the same ones used to build the White House. Lunch onboard the Nikola as we head toward the mainland once again. Visit a mountaintop village with its historical architecture of slated stone roofs. Sample the island's famous olive oil and schapps. Free evening.
———————————————————————————————————————————

Cooking in Trogir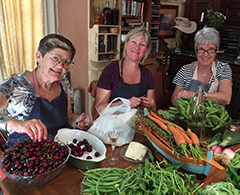 We'll arrive to the ancient town of Trogir on the mainland where you'll have a few hours to explore on your own. In the afternoon, we'll tour the market while purchasing the best seasonal ingredients for a multi-coursed farewell dinner and cooking class with the ever-entertaining Tatjana.
———————————————————————————————————————————

Farewell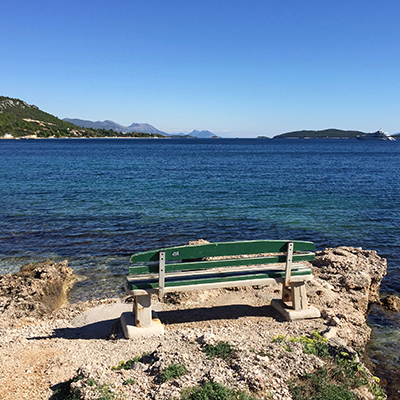 After breakfast and check-out, we can help you arrange your transportation to either a hotel in Split or the nearby international airport.
*As a group, we'll visit old town Dubrovnik late in the day to avoid the large number of tourists that de-bark from the cruise ships. If you'd like to have time to visit the museums and get the most from your journey, you may consider arriving a day or two before our Croatia tour begins.
**Our tour on Vis is more strenuous than other days and requires a little uphill hiking and walking on dirt trails as well as climbing a few steps on a ladder.
***Since we will not visit Split as a group, I would highly recommend spending at least one night there in a hotel. You don't want to miss Diocletian's Palace.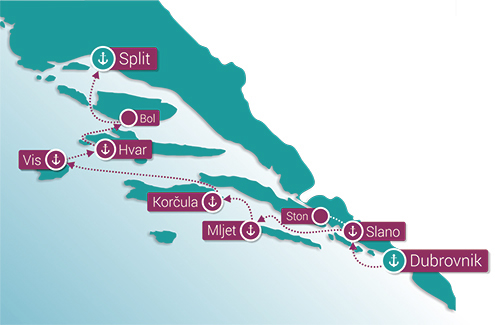 Itinerary subject to change depending on local festivals and weather.
Please be aware that we can only accept travelers who have been fully vaccinated. This insures the safety of the group in close quarters as well as the people who we'll meet along the way.