Umbria & the Italian Countryside
Experience Italy!
September 14-21, 2024

Delicious Expeditions
would like to introduce you to the best of Umbria. In the heart of Italy, high on a mountaintop, sits the hamlet of
Montone
and our accommodations for the week. Dating back to 1121, this walled village has had an illustrious history. Today, it is a quaint community of stone houses with exquisite views of the Tiber Valley. Stroll its ancient cobbled alleys; sip cappuccino in its sun-drenched
piazza.
From Montone, we'll venture out into the picture-perfect countryside with its medieval villages and rolling hills. Meet the area's food artisans and discover their centuries-old techniques; explore Etruscan ruins and learn the simple ways of the land.
Our food and wine tour will focus on farm-to-table Italian cuisine. Learn to work with fresh truffles as well as make pasta, gnocchi, delectable sauces, roasted meats and traditional desserts. Dine on the region's best, all while savoring and learning about local wines. Whether you love to be in the kitchen or prefer to sightsee and shop, our Delicious Expedition to Umbria will exceed your expectations.
________________________
Experience Umbria
$3200 per person, private bath, double occupancy
$2950 per person, shared bath, double occupancy
$500 Single Supplement
--------------
Private Home:
The Guard House of Montone--$3500, double occupancy
--------------
Bring a friend or spouse:
Non-cooking companion--$2800
________________________
Included in the Umbria cooking vacation are 7 nights accommodations, all ground transportation after arriving at the Terontola-Cortona train station, all group activities, cooking classes, and meals listed in the itinerary.
A $1000 deposit is required to secure your place. Since the number of participants is limited and accommodations vary, early registration is advised.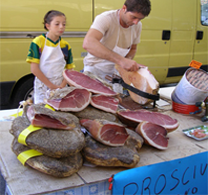 Delicious Expeditions also offers culinary tours to:
Croatia, France, Guatemala, Istria, Michoacán, San Miguel de Allende, Slovenia, Tuscany, Umbria, Venice & Vienna
Don't just take our word for it!
Read our testimonials and see for yourself that Delicious Expeditions are trips of a lifetime!
An Indepth Culinary & Cultural Journey

¡Benvenuto!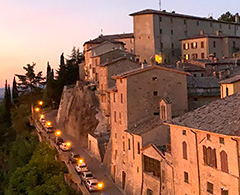 We'll meet in the afternoon at the Terontola-Cortona train station and drive to Montone to settle into our restored 14th-century home. A guided tour of the village will be followed by evening cocktails and dinner on the piazza (the town's square).
———————————————————————————————————————————

Under the Tuscan Sun
After a scenic drive through the Valdichiana Valley, we'll arrive to the picturesque town of Cortona—the setting for "Under the Tuscan Sun." Wander the ancient hilltop alleyways before dining at the town's famed Osteria del Teatro. Afternoon wine tasting featuring Tuscan wines with local expert. Visit Preggio, a tiny hilltop hamlet.
———————————————————————————————————————————
The Heart of Umbria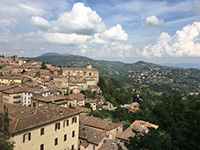 We'll head to Perugia, Umbria's capital--a sophisticated university town, famous for its Etruscan and medieval architecture, shopping, and chocolate. A walking tour will be followed by lunch and some free time to explore on your own. Cooking class dinner.
———————————————————————————————————————————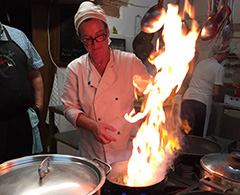 Anghiari & Olive Oil
We'll head north to the town of Anghiari for a cooking class with Chef Silvia at Da Alighiera restaurant. After a magnificent meal, we'll tour the picturesque village and the 150-year old Busati linen factory. Olive oil tasting at one of the region's oldest mills, founded in 1421. Be charmed by the always entertaining Francesco who will invite us into his home.
———————————————————————————————————————————

Market Day & Pasta Making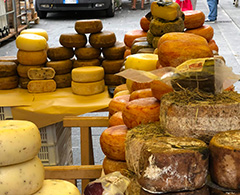 Peruse the stalls of Umbertide's local market before heading to Mimmi's in Mercatale for a pasta making class with the restaurant's octogenarian owner. Visit the 1000 year old abbey of Monte Corona as well as a local beekeeper. Wine tasting at Blasi Winery.
———————————————————————————————————————————

Truffle Hunting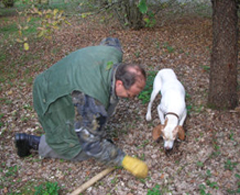 We'll set out for the Upper Tiber Valley for a truffle hunt with a local hunter and his dog. Learn the secrets of his trade, then feast on a multi-course lunch featuring the morning's bounty. Afterwards we'll head to the ancient hillside town of Gubbio, famous throughout the Roman era until its height in the early Renaissance. Free evening.
———————————————————————————————————————————

Art-filled Assisi
A free day in the region's most famous town, art-filled Assisi. After touring the church and wandering the streets, we'll head back to Montone for our farewell dinner prepared by the chefs of Amore Sapore. Grab an apron and join them in the kitchen or head to the piazza for a last glass of prosecco with lots of local flair.
———————————————————————————————————————————

Buon Viaggio!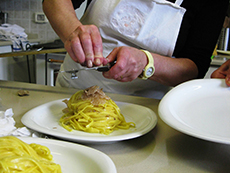 After a final breakfast together, depart for the train station for your return to either Florence or Rome.
*Itinerary subject to change depending on local festivals and concerts.