The Magic of Michoacán
More of Mexico!
Day of the Dead: Oct. 28-Nov. 4, 2022
(Get details here)
March 4-11, 2023

Be dazzled by the beauty and indigenous heritage of Michoacán. Ancient traditions run deep in this central Mexican state, home to the descendants of the Purépecha Empire as well as generations of noted artisans. This area drips with history and charm; lush forests and picturesque lakes.
We'll first explore the majestic colonial city of Morelia, a world heritage UNESCO site at the foot of the Sierra Madre Mountains. Founded in the 16th century, its downtown is colored with a distinctive pink stone; its streets are early example of urban planning. In Pátzcuaro, we'll discover a charming small town that blends indigenous and colonial roots. Its enormous square is rimmed with restaurants and cafés, offering a relaxing atmosphere. Pátzcuaro is one of Mexico's most beloved pueblos mágicos, an honor bestowed on the country's most magical towns.
Our tour not only focuses on the amazing culture and history of the area but also on its artisans and famed cooks. In 2010, based on Michoacán's food customs and traditions, UNESCO named Mexican cuisine an Intangible Cultural Heritage of Humanity. We'll explore this region's ancient cuisine, meeting and cooking with several cocineras tradicionales, acclaimed women who continue to use indigenous ingredients and practices. We'll learn their secrets and hear their stories.
—————————————————
Experience Michoacán
$2900 per person, double occupancy
$400--Single Supplement
Bring a friend or spouse:
Non-cooking companion--$2600
Extra night in Morelia: $220, superior room
—————————————————
Our Michoacán tour includes 2 nights at the luxury Hotel de la Soledad in Morelia and 5 nights at Casa Encantada in Pátzcuaro, all ground transportation after arriving to Hotel de la Soledad and until checkout at Casa Encantada, all group activities, cooking classes and demonstrations, all meals specified in the itinerary.
The tour price does not include airfare or any transportion to our starting point in Morelia (however we'd be happy to help you with arrangements), tips to guides and hotel/house employees, or alcoholic beverages other than what's served to the group during our scheduled events.
A $1000 deposit is required to secure your place in our Michoacán tour. Since the number of participants is limited and accommodations vary, early registration is advised.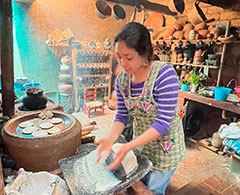 Delicious Expeditions also offers culinary tours to:
Croatia, France, Guatemala, Istria, Michoacán, San Miguel de Allende, Slovenia, Tuscany, Umbria, Venice & Vienna

Don't just take our word for it!
Read our testimonials and see for yourself that Delicious Expeditions are trips of a lifetime!
Artisan Treasures &amp Culinary Pleasures

¡Bienvenidos!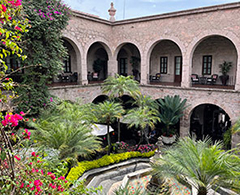 Arrive in Morelia, one of Mexico's oldest cities, and immerse youself in the beauty of Hotel de la Soledad, an 18th-century gem located off the main square and one of the Small Luxury Hotels of the World. Settle in before joining the group for a welcome drink in the hotel's exquisite garden. For dinner, we'll walk across the square to La Conspriación de 1809, a restored colonial mansion and one of the city's finest restaurants. There, chef Cynthia Martinez will dazzle us with a selection of her signature dishes that meld time-honored tradition with modern flair.
See Michoacán photo gallery
———————————————————————————————————————————

Discovering a Colonial Gem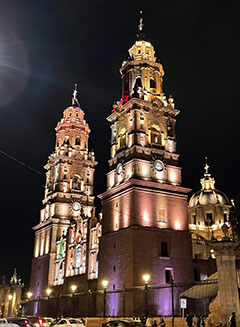 After breakfast, we'll meet for a walking tour of the city's historic center, visiting popular landmarks along the way, including the Cathedral and the Conservatorio de las Rosas (the first music conservatory in the Americas). We'll visit former palaces and convents while strolling the cobbled streets and expansive boulevards, stopping by the Museo del Dulce to learn about the area's traditional candy-making. Lunch with chef Lucero Soto at her restaurant Lu Cocina Michoacana, where we'll sample her commitment to sustainability and local ingredients. Free afternoon and evening to explore the markets, museums, and shops.
———————————————————————————————————————————
Ceramics & Famed Traditional Cooks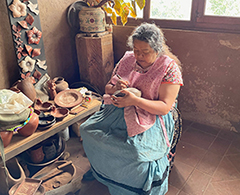 Today we begin our journey into the villages of Michoacán, with their world-renowned folk art and cocineras tradicionales. These traditional cooks keep their cultural gastronomy alive by using the ingredients, recipes, and rituals of their ancient Purépecha and Tarascan communities. We'll first stop in Capula, a pottery town, and then move on to Santa Fe de la Laguna for a cooking demonstration and meal at the home of Maria del Rosario Lucas. After lunch, we'll continue to Pátzcuaro and the lovely Casa Encantada. Welcome cocktails on the patio. Free evening to explore the town or dine on the Plaza Grande—considered one of the most beautiful squares in Mexico.
———————————————————————————————————————————
The charm of Pátzcuaro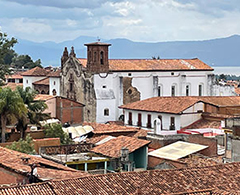 After breakfast, we'll join our local guide for a walking tour. Founded in the 1320s, Pátzcuaro's cobbled streets and low white buildings with terracotta roofs offer the charm and quaint beauty of bygone days. Peruse the stalls of the market and sample local produce before heading to a cooking class lunch with Victoria Gonzalez, another famed cocinera that hails from the Tierra Caliente region. Free evening.
———————————————————————————————————————————

Ancient Ruins & pre-Hispanic Cuisine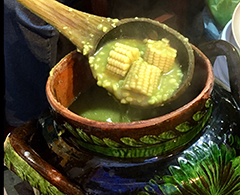 We're off to Tzintzuntzan, another pueblo mágico and the one time capital of the Purépecha Empire. We'll visit its archeological site, a former town of 40,000, and learn about its unusual rounded pyramids. Back in town, we'll explore the market, seeing examples of the area's crafts: pottery, reed work, weaving, and masks. Lunch with cocinera Blanca Villagómez as she introduces us to the area's pre-Hispanic dishes. Free evening.
———————————————————————————————————————————

Copper Artisans & Cooking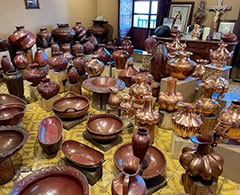 We'll spend our morning in Santa Clara del Cobre, a nearby town named and famed for its copper work, learning about the centuries-old craft that is kept alive through its amazing artisans. On the way back to Patzcuaro, we'll drive through pine and oak forests for a glimpse of Zirahuén and its majestic lake. Afternoon cooking class and dinner with chef Cynthia (who we met the first night) in the historic kitchen of Mesón de San Antonio—one of the last inns along the Camino Real, operating since the 18th century.
———————————————————————————————————————————

The Islands of Lake Pátzcuaro
After breakfast, we'll board a private boat to Janitzio in the middle of Lake Pátzcuaro. Explore the purely indigenous island at your leisure. Free afternoon for shopping, museum visits, or a spa treatment. Farewell dinner and cooking demonstration at Casa Encantada with cocinera Rosalba Morales.
———————————————————————————————————————————

Buen Viaje!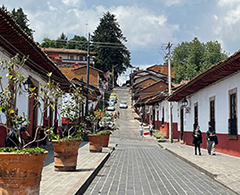 Return by taxi or shuttle to Morelia airport or another destination in Mexico. Possible group shuttle to San Miguel de Allende.
———————————————————————————————————————————
Itinerary subject to change depending on local festivals and weather.
Please be aware that we can only accept travelers who have been fully vaccinated. This insures the safety of the group as well as the people whose homes we will be visiting.